Jubilee Juice & Grill West Loop, Chicago
Jubilee Juice & Grill Restaurant in West Loop Chicago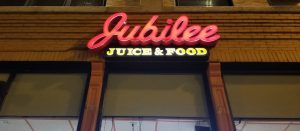 The West Loop is one of the most happening and fastest-growing neighborhoods in Chicago. While it boasted over hundreds of places to eat and drink, Jubilee has been located in the West Loop for over 20 years. Our healthy fast food West Loop menu offers something for everyone from our vegetarian menu to our best burgers. Jubilee Juice & Grill is located right off "Restaurant Row" on the corner of Randolph St. and Halsted at 140 N Halsted St, Chicago, IL 60661. We also have late hours that make us a great late-night menu.
Healthy Fast Food West Loop
Eat Fast- Eat Fresh Try Jubilee Juice, a healthy alternative to fast food! Indulge in our 100% Natural Smoothies or Feast on our char-broiled specialties. We love our grilled food the healthier option and you will too. Selections Include Best Breakfast, Fresh Squeezed Juices, Fresh Fruit Smoothies, Fresh House Made Burgers, Grilled Chicken Sandwiches, Grilled Steak Sandwiches, Fresh House Made Turkey Burgers, Fresh House at located in a restaurant in West Loop, Chicago.
Spending an Afternoon at a West Loop Park
Looking to stay in the neighborhood? A great idea is to visit one of the beautiful city parks in West Loop:
Fulton River Park: Secluded on a gentle rolling hill, this green grass park sits in the North-East corner of the West Loop. A city secret – it's right across the street from the Blommer Chocolate Company, filling the area with the sweet smell of chocolate.
Union Park: Running along the westernmost border, Union Park is the largest in the West Loop. Basketball & tennis courts, soccer/football fields, and baseball diamonds make it a bustling spot, but there's plenty of space to find a secluded spot.
Skinner Park: Nestled next to Whitney M. Young High School, Skinner Park offers a community garden, basketball courts, baseball & softball fields, and a playground – a beautiful spot to spend an afternoon.
Bartelme (Mary) Park: An artsy gem with a charming view of the Sears (Willis) Tower. Lit up at night, it's perfect for a stroll. Plus, it's dog-friendly, making it a hit among pup lovers.
Heritage Green Park: Celebrating the city's Irish heritage, this small park offers a great view of the Old St. Patrick's Catholic Church, a true Chicago landmark.
How to Get to Jubilee Juice & Grill West Loop and Where to Park:
🚗 Meter parking on Halsted and Randolph.
🅿️ 15-min pickup parking in front.
🚆 Green/Pink Line: Get off at Morgan Station CTA stop.
🚆 Chicago Blue Line: Get off at Grand CTA stop or UIC-Halsted Station.
🚌 Chicago 22 Bus (Southbound – Harrison): Get off at Halsted & Randolph/Washington stop.
Jubilee Juice & Grill Delivering to West Loop and Surrounding Neighborhoods:
🛵 Available for pick up and delivery on UberEats & DoorDash. Enjoy our delicious offerings without leaving your neighborhood! 😋🍔🍟 #WestLoopParks #ExploreLocal #JubileeJuiceGrill
Jubilee Juice & Grill Delivering to West Loop and Surrounding Neighborhoods.
We are available for pick up and delivery for West Loop orders. You can find us on your favorite delivery apps like UberEats & DoorDash.